It feels like my whole life is being uprooted, and it appears as I am not the only one! But it's all good things happening so I'm not going to jinx it by talking about it like I always do.
However, let me just say one thing. I know I'm late on the game to talk about this, but how awesome is it to be alive during this, the most historic of elections? And I'm not just talking about the fact that for once, the people of the USA collectively pulled together and pulled their heads out of their asses for a moment (literally, a moment, as in the same 24 hours, California and several other states voted to ban the marriage of homosexuals, wtf, amirite?). I'm talking about HOW it was done. Someone has finally used the internet for good! Social networking how it should be! Coming together for a cause! By using site like Twitter, Blogger, Tumblr, and Facebook, not only did he attract a younger generation of voters who would normally be completely apathetic about the election (even facing Puff Daddy's threat of "VOTE OR DIE"), but he brought together a serious cross section of every type of person!
But of course, being the person that I am, the part that I thought was the absolute coolest, was how he allowed several prominent street and alternative artists to create imagery for his campaign. Obviously we all know and saw the Sheppard Fairey images: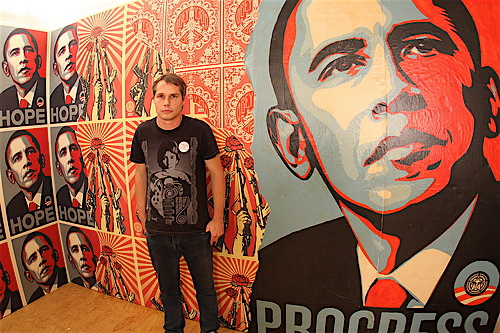 Theres also the Upper Playground poster series (with which they sponsored a "Wheatpaste Obama across the US" tour):
and lets not forget the ridiculously awesome hypebeast BA-ROCK Rock Smith shirts (Re-released after his victory apparently, so if you didn't cop when they first came out, make sure you do now!)
And these are just a few.
So let me just recap because I know I can be long winded at times: HOW COOL IS IT TO BE ALIVE IN A TIME WHEN STREET ART IS AN ACCEPTABLE FORM OF CAMPAIGNING FOR PRESIDENCY OF THE UNITED STATES OF AMERICA??????